(20 December 2021 – Hong Kong) - CIMC Enric Holdings Limited ("CIMC Enric" or "the Company") together with its subsidiaries (the "Group") (Stock Code: 3899.HK) today announced that its subsidiary, Nantong CIMC SinoPacific Offshore &. Engineering Co., Ltd. ("SOE") has signed a RMB441 million contract in Nantong, Jiangsu Province with Offshore Oil Yangjiang Enterprise Ltd. ("Offshore Oil Yangjiang"), a subsidiary of CNOOC Energy Technology & Services Limited ("CNOOC Energy Tech"), for the construction of a 12,000m3 LNG carrier and bunkering vessel ("the Vessel"). Upon completion, the Vessel will be mainly responsible for refueling of coastal LNG-powered vessels and the LNG transhipment from inland river refueling stations and Yangtze River transfer stations, boosting the progress of "oil-to-gas" conversion of ships in China.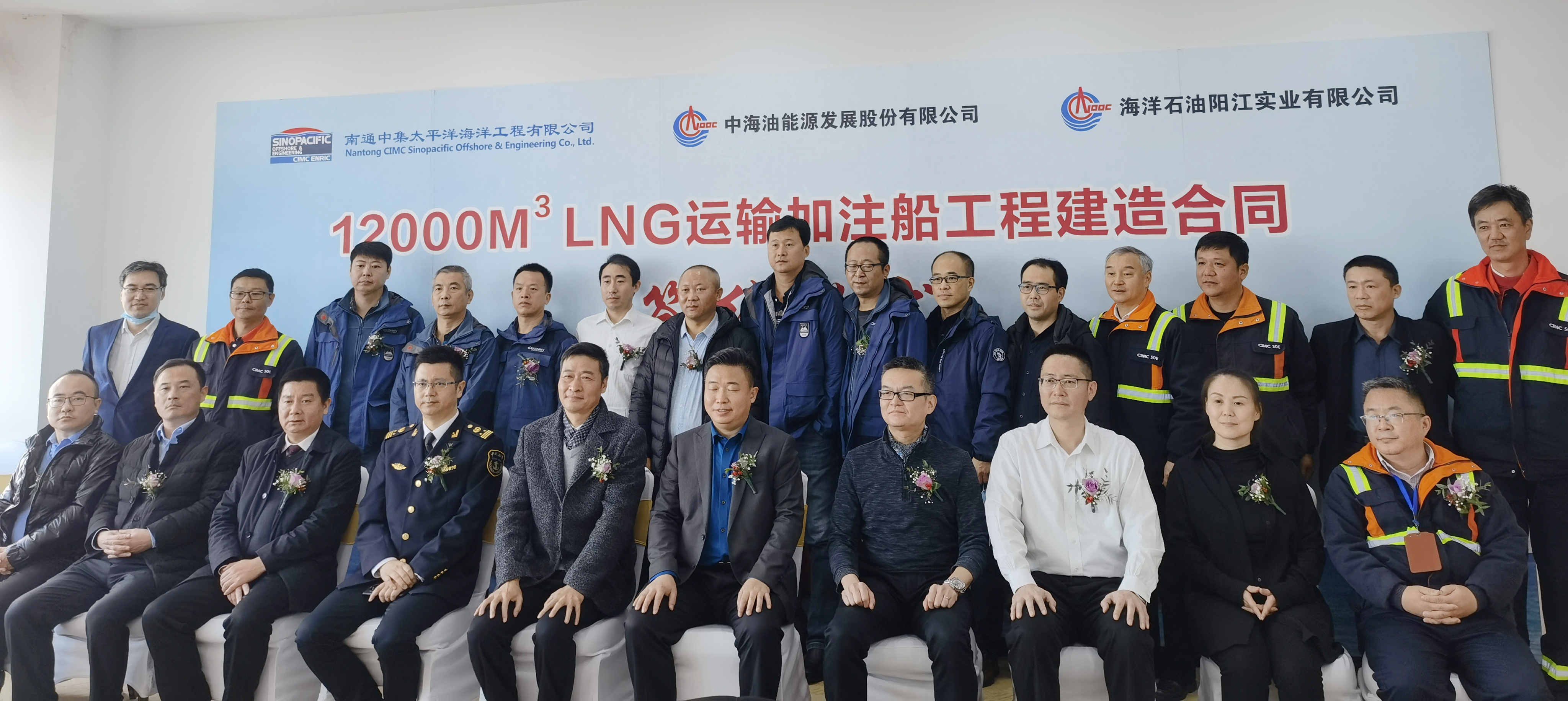 The Vessel, which is 132.9 meters in length, 22 meters in width and 11.8 meters in depth, is an LNG carrier with LNG bunkering function. It is mainly applicable to unrestricted navigation area. It can sail to Wuhu LNG terminal for loading and unloading LNG conditionally, based on hydrographic factors of Yangtze River, and can perform ship-to-ship and ship-to-shore refueling, reverse refuel/ refill services and provide professional services for large LNG-powered vessels before they leave the shipyard.
The cargo hold capacity of the Vessel is not less than 12,000m3 and the cargo containment system is Type C with good maneuverability, self-docking performance, speediness and ship-ship/ ship-shore compatibility. The design temperature of the cargo tank is -163℃ and the capacity of a single tank is about 6,000m3, while the total volume of the cargo tank is about 12,000 cubic meters. The design lifespan of the vessel is 30 years with electric propulsion system, allowing the Vessel to navigate in Ice Class B areas. Thanks to the replenishment of production capacity after the asset purchase of Qidong Fengshun Ship Heavy Industry Co., Ltd in August, SOE has seen a greater improvement in order delivery and new orders signed.
Mr. Yang Xiaohu, Executive Director and General Manager of CIMC Enric, commented, "The Vessel tender win is the first LNG carrier and bunkering vessel in China to pass the China Classification Society's classification examination, which is of great strategic significance to CIMC Enric in terms of industry deployment and market leadership in offshore LNG business development. According to industry measurements, ships powered by LNG, compared with oil, can reduce emissions of sulfur oxides and suspended particulates by 100% and nitrogen oxides by 90% each year, in addition to reduced fuel costs. With the continuous promotion of energy savings and emission reduction in the global shipping industry, LNG has become a very promising alternative to highly polluting fuels, and the outlook of LNG refueling market is optimistic. CIMC Enric will make every effort to build more clean energy carriers and bunkering vessels, promote the development of domestic offshore LNG refueling industry in the process of oil-to-gas conversion of vessels, and help China achieve its carbon emission goals."