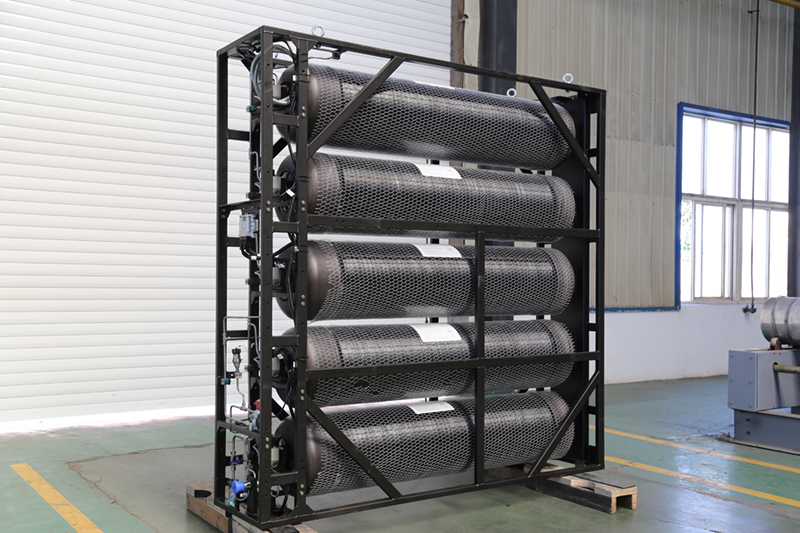 (6 May 2022 – Hong Kong) CIMC Enric Holdings Limited ("CIMC Enric" or "the Company") together with its subsidiaries (the "Group") (Stock Code: 3899.HK) is pleased to announce that CIMC-HEXAGON Hydrogen Energy Systems Limited ("CIMC-HEXAGON"), a joint-venture company of CIMC Enric and Hexagon Purus producing hydrogen cylinder and systems solutions for mobility applications in China and Southeast Asia, has signed a Memorandum of Understanding ("MoU") with Hong Kong-based bus operator Bravo Transport Services Limited ("Bravo"), which serves more than 1 million passenger trips each day in Hong Kong with its fleet of more than 1,700 transit buses, the majority of which are double decker buses.
The initial scope of the MoU is for CIMC-HEXAGON to provide a Type IV hydrogen storage cylinder system for a hydrogen fuel-cell double decker bus in Hong Kong. In parallel, and subject to relevant approval from local authorities, Bravo and CIMC-HEXAGON will be working together to develop more hydrogen fuel-cell double decker buses for trial in Hong Kong.
Beyond the initial phase, Bravo and CIMC-HEXAGON intend to continue working together to develop safe and high-performance Type IV hydrogen storage cylinder systems to support the substitution of Bravo's existing fleet of double decker buses with zero-emission solutions to support Hong Kong Government's 2050 carbon neutrality goal*.
Driving Energy Transformation
"Large fleet customers require solutions from the distribution and filling systems for hydrogen to safe, efficient and economic storage of this emission-free fuel on road vehicles, trains and marine vessels" says Beverly Baoying Yang, Deputy General Manager of CIMC Enric & Head of Hydrogen Business. "Our JV CIMC-HEXAGON in cooperation with CIMC Enric are in the unique position to provide the full solution".
"The agreement with BRAVO to develop hydrogen fuel systems represents an important milestone for CIMC-HEXAGON and confirms our globally leading position as supplier of Type IV hydrogen storage cylinder systems for transit buses", says Urs Laeuppi, CEO Hexagon Purus China & Southeast Asia. "We see an increasing demand for hydrogen fuel-cell transit buses in Asia, and we are excited to collaborate with Bravo to support the rollout of zero-emission transit double decker buses in Hong Kong".
Mr Richard Hall, Chief Operating Officer of Bravo Transport Services Limited says: "With the launch of our zero-emission transformation campaign #MissionZero, we have pledged to operate a full-fleet of zero emission buses across Hong Kong by 2045, which is five years earlier than the carbon neutrality target set by the government. We believe that both battery electric and hydrogen fuel cell technology are viable options in completing our journey to a zero-emission public transportation solution and we are excited to continue our collaboration and work with international partners to deliver this."
About the market
Hong Kong's Climate Action Plan 2050 sets out the vision of "Zero-Carbon Emission – Livable City – Sustainable Development" and outlines the strategies and targets for combating climate change and achieving carbon neutrality with hydrogen playing a pivotal role in that transition.
The transportation sector is accountable for about 20% of annual carbon emissions globally, and hydrogen has a significant role to play in reducing emissions from this sector and other "hard to abate" sectors. Making green hydrogen available for use in the transportation sector is critical to reduce carbon emissions.
* The final agreement to provide Type IV hydrogen storage cylinder systems for further prototypes and serial production to Bravo's development and subsequent replacement of existing double decker fleet in Hong Kong is subject to certain terms and conditions.