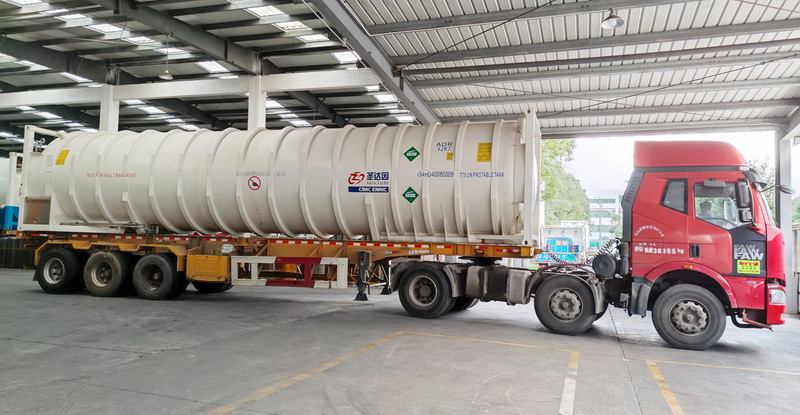 (19 May 2022 – Hong Kong) CIMC Enric Holdings Limited ("CIMC Enric" or "the Company") together with its subsidiaries (the "Group") (Stock Code: 3899.HK) is pleased to announce that Zhangjiagang CIMC Sanctum Cryogenic Equipment Co., Ltd. ("CIMC Sanctum"), a subsidiary of the Company, has independently developed China's first 40-ft liquid helium tank container (the "Liquid Helium Tank Container"). Designed and manufactured in accordance with the ASME standard, it has passed various stringent tests such as the liquid helium cryogenic type test and the road transportation test conducted by BV Classification Society. The Liquid Helium Tank Container has also been certified by the BV Classification Society. When evaluated against various indicators, it has excellent performance and satisfies a clear market need for domestic liquid helium storage and transportation products.
Helium is widely used in aerospace, submarines, cutting-edge scientific research, high-end manufacturing, medical and other fields. As one of the strategic rare materials, it is indispensable for the development of high-tech industries. Helium resources in China are relatively scarce. According to public data released by 2020, its helium reserves accounted for only 2% of total helium worldwide, nevertheless it has relatively large demand, accounting for 11% of the total global demand. China's helium needs have long been met by imports and its dependence on foreign countries is as high as 95%. Given helium's high storage density, it is mainly transported and sold in the form of liquid helium in the international market. Longzhong Information estimates that 3,685 tons of helium is imported to China in 2021 with supply expected to reach 4,300 tons in 2022.
The design and manufacture technologies of large-scale liquid helium storage and transportation equipment are concentrated in few enterprises based in the United States, Japan, and Germany. The key core technology of storage and transportation equipment for the domestic liquid helium industry is therefore controlled by other countries. The successful development of the first domestic liquid helium tank container therefore fills this gap in China, overcoming the technical barriers of some developed countries such as the United States and Japan and several European states. This breakthrough marks the successful localization of the first large-scale liquid helium storage and transportation equipment in China. It supports the development of a high-tech economy and society, by providing a supply of effective high-end equipment.
Mr. Yang Xiaohu, Executive Director and General Manager of CIMC Enric, said, "As Helium is a scarce and strategic resource which affects the development of various high-tech industries, the adoption of helium is quite critical. Liquid helium tank containers are the 'Everest' of the cryogenic storage and transportation equipment industry as the temperature must be close to absolute zero which has always been a barrier for the domestic industry. The successful R&D and launch of this liquid helium equipment once again confirms the strength of CIMC Enric's R&D in the field of cryogenic equipment manufacturing industry. These technologies can also be applied to liquid hydrogen which has a temperature around 20°C above absolute zero. Looking ahead, we will double down on our R&D in related fields, pursuing in-depth development in the cryogenic equipment field, and advancing the development of the liquid helium and liquid hydrogen industries."