(8 June 2022 – Hong Kong) CIMC Enric Holdings Limited ("CIMC Enric" or "the Company") together with its subsidiaries (the "Group") (Stock Code: 3899.HK) is pleased to announce that its subsidiary, Nantong CIMC SinoPacific Offshore &. Engineering Co., Ltd. ("CIMC SOE"), has recently delivered another world's largest 20,000m3 LNG carrier and bunkering vessel (the "Vessel") to UK-based Avenir LNG in Zhoushan, Zhejiang Province. This is the second LNG bunkering vessel delivered by CIMC SOE this year, and the delivery ceremony was also held online.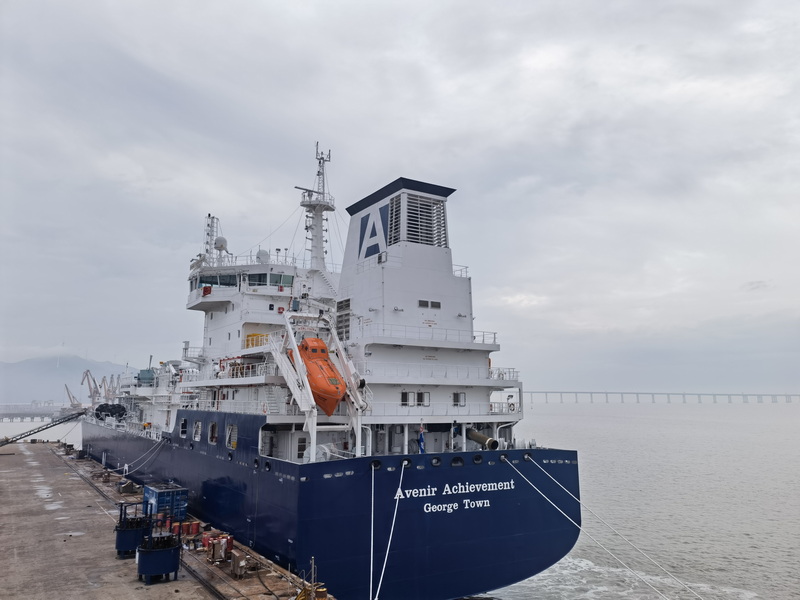 The 20,000 cubic meter-LNG carrier and bunkering vessel delivered is the largest LNG bunkering vessel in the world. Featureing a C-type bi-lobed tank as the main cargo tank, the vessel, at 159.9 meters in length and 24 meters in width, has advantages of safety, low boil-off rate and environmental protection. It's a technical upgrade of ordinary LNG carriers with functions of distributing LNG as well as bunkering LNG for other vessels and terminals. The Vessel was a turnkey project carried out by CIMC SOE, with the liquid tank and liquid cargo system designed and built by CIMC SOE, and the hull built by Zhoushan Changhong International Shipbuilding Co., Ltd.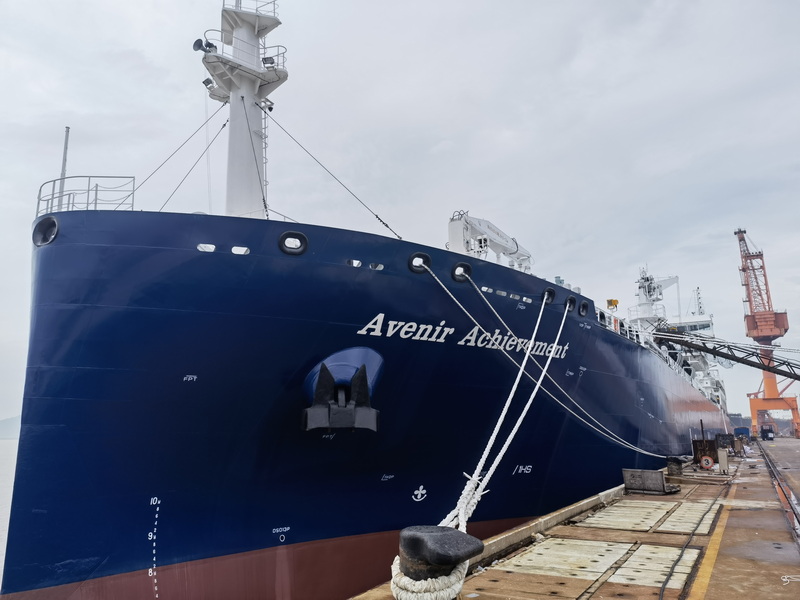 Avenir LNG is a joint venture between Stolt-Nielsen, the world's largest chemical shipping company, and two giants in the LNG sector, Hoegh LNG and Golar LNG, and focuses on small-scale LNG distribution and LNG bunkering. CIMC SOE is a leading enterprise in the small and medium-sized liquefied gas carrier segment with extensive experience in designing and manufacturing high-quality gas carriers. Ranking among the top in the global market share, it has delivered more than 40 LPG/LEG/LNG and other gas carriers and bunkering vessels, and enables to provide professional liquefied gas transportation solutions of energy conservation, environmental protection and technical innovation.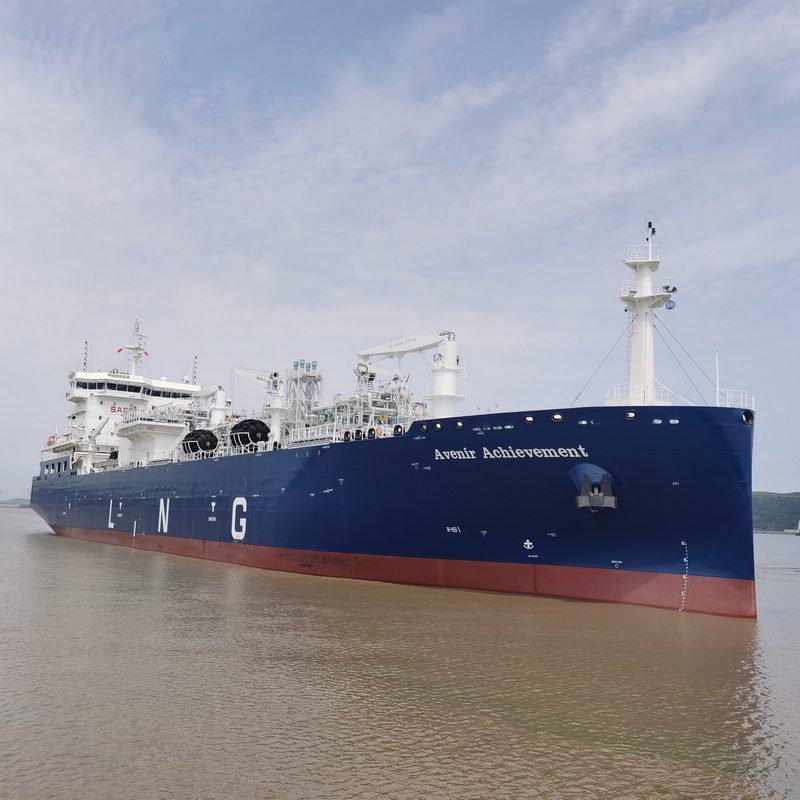 2021 was a year of great progress for LNG as a marine fuel to decarbonize. Orders for LNG-powered ships reached a new high, and the bunkering infrastructure is rapidly expanding. Det Norske Veritas ("DNV") predicts that market demand for LNG fuel will triple to more than 3.5 million tons by 2024. To support this demand, the construction of LNG bunkering infrastructure will continue to expand. According to DNV, there are now 33 LNG Bunkering Vessels in operation with a further 42 on order or under discussion. By the end of 2022, LNG bunkering vessels will be operating in Northern Europe, the Mediterranean, the United States, Canada, South Korea, Japan, Malaysia, China, Singapore, Brazil and South Africa. Other regions such as Australia are also investing in LNG bunkering. Clarkson notes that there are currently 141 ports available for LNG bunkering worldwide, which is expected to grow to 170 ports by the end of the year.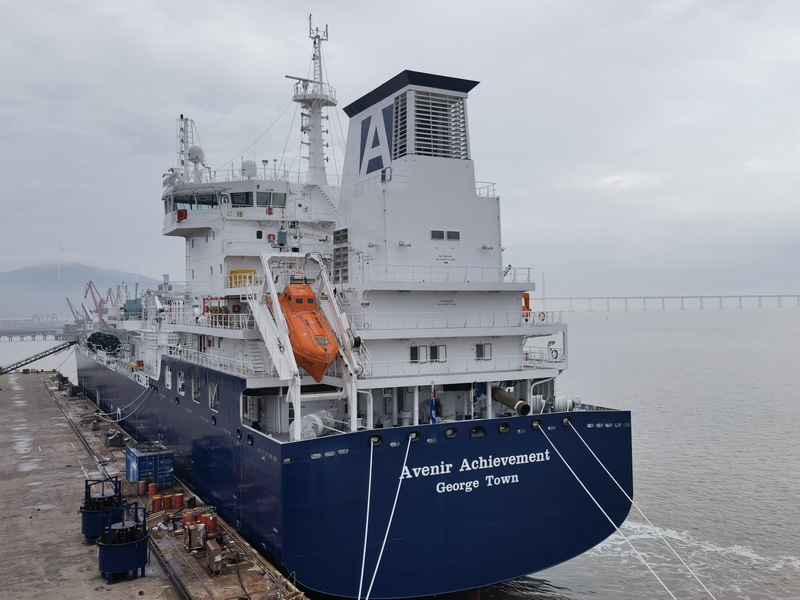 Mr. Gao Wenbao, Deputy General Manager of CIMC Enric and General Manager of CIMC SOE, said, "Compared with truck-to-ship and port-to-ship bunkering methods, ship-to-ship bunkering can realize simultaneous operations (SIMOPS) for both passengers and cargo. Fast bunkering speed and operational flexibility make it especially suitable for large international merchant ships. Bunkering ships are therefore of key importance to the construction of international LNG bunkering centers. The world's largest 20,000 m3 LNG carrier and bunkering vessel delivered to our customer previously completed the first simultaneous ship-to-ship LNG bunkering operation for large LNG dual-fuel powered container vessels in a Chinese port, marking a milestone in the application of LNG bunkering in China's shipping industry. There is a considerable room for LNG bunkering industry to develop in China, so that we will continue building high-quality LNG bunkering vessels to help the decarbonization of the shipping industry at home and abroad."