Successfully used in dual-fuel LNG carriers Cost of raw materials is expected to be significantly reduced
(27 June 2022 – Hong Kong) CIMC Enric Holdings Limited ("CIMC Enric" or "the Company") together with its subsidiaries (the "Group") (Stock Code: 3899.HK) is pleased to announce that Jingmen Hongtu Special Aircraft Manufacturing Co., Ltd. ("Jingmen Hongtu"), a subsidiary of the Company, has obtained the "Certificate of Works Approval" issued by China Classification Society ("CCS") for its research and development of high manganese austenitic cryogenic steel series products. It is also the only manufacturer of high manganese steel marine LNG tanks in China that has obtained such certification approved by CCS. It is expected to realize the batch application of low-cost high manganese steel on LNG-powered ships in the future.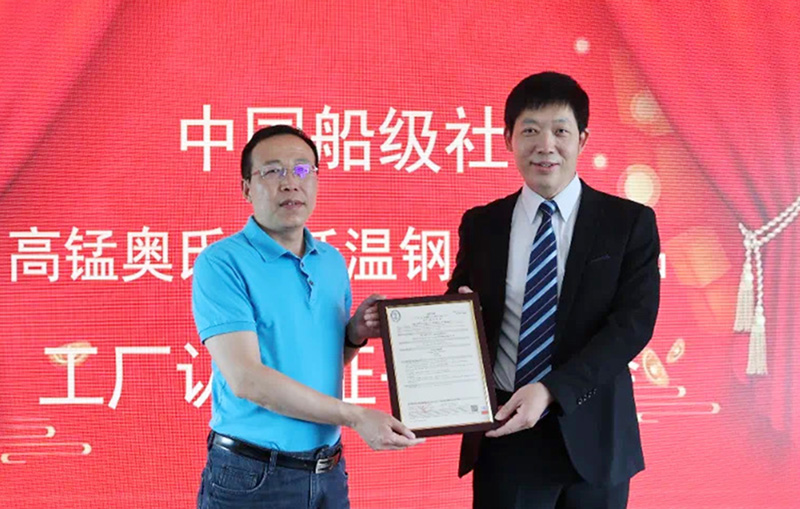 In order to facilitate the development of LNG industry, break the monopoly of foreign countries on LNG high manganese steel technology and enhance the international competitiveness of China's shipbuilding industry, led by 725 Research Institute, together with CCS, Hebei Iron & Steel Group, Wuyang Iron and Steel Co., Ltd., Jingmen Hongtu and other units (the "Project Team"), it has undertaken a project issued by the Ministry of Industry and Information Technology to carry out the "Application study of high manganese austenitic cryogenic steel for marine LNG storage tanks". Jingmen Hongtu mainly undertakes the sub-project research on the construction of LNG storage tanks for ships using domestic high manganese austenitic low temperature steel plates and welding materials. After three years of technical research, Jingmen Hongtu has completed all the tasks including the design of three sample tanks, the research of high manganese steel manufacturing and forming process, the research of welding process, the test of actual working conditions of high manganese steel sample tanks, and the patent declaration. In January 2022, the high manganese steel LNG storage tank developed and built by the project team was successfully used in dual-fuel LNG carriers, realizing the first application in domestic LNG carriers.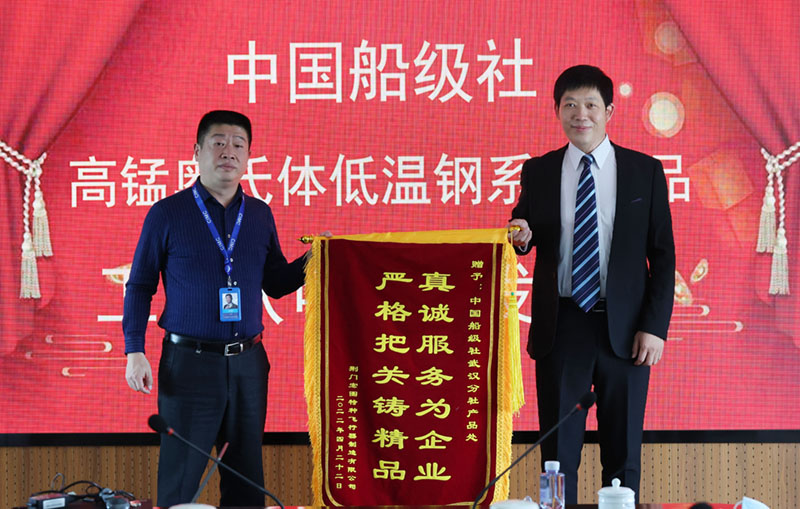 In recent years, due to the steady growth of the market demand for LNG carriers and LNG-powered ships, high manganese steel, a new type of LNG storage tank manufacturing material with lower cost, is becoming a hot spot in the market. High manganese austenitic low temperature steel has wear resistance, high formability, non-magnetic, anti-vibration, low temperature and other properties, which can adapt to the low temperature environment of minus 196℃, and can replace the widely used low temperature metals (aluminum alloy, 9% Nickel steel, 304 stainless steel, etc.). LNG carriers need to use materials with good toughness and weldability to transport LNG at a low temperature of minus 162℃. In the existing LNG equipment related market, 9% Nickel steel with higher strength and 304 stainless steel with corrosion resistance have always occupied a dominant position. Compared with 304 stainless steel, high manganese steel has the same corrosion resistance, but its strength performance is better. Compared with 9% Nickel steel, high manganese austenitic low temperature steel has better plasticity, toughness and higher strength. The appearance of high manganese steel with comprehensive performance widens the material selection range of LNG storage tanks.
Owing to the high content of manganese on the earth, the use of high manganese steel will significantly reduce the manufacturing cost, which is the best substitute for the low temperature materials of traditional LNG containers and has obvious advantages in large scale application. In addition to the shipbuilding industry, the application potential of high manganese steel in other low temperature fields is also huge. In 2019, high manganese austenitic low temperature steel obtained the commercial license of new materials issued by Korea Natural Gas Technical Standards Committee, which is expected to be applied to land LNG storage tanks and LNG tankers in advance. It has been widely recognized by the market due to the remarkable effect of cost reduction.
Mr. Yang Xiaohu, Executive Director and General Manager of CIMC Enric, said, "Against the backdrop of "lack of nickel, rich in manganese" in China, the mature manufacturing technology of high manganese austenitic cryogenic steel will be able to significantly reduce the cost of LNG vessel construction materials, which is a great innovation in the industry's technological progress. It will effectively enhance the company's market competitiveness of LNG-powered ships and other equipment. As a leading supplier of LNG-related equipment, CIMC Enric will actively participate in the innovation of the whole industrial chain of high manganese steel from material to application, promote the cost reduction and efficiency enhancement of material cost in the industry, and facilitate various demonstration applications of high manganese steel LNG storage tanks to strive for the first-mover advantage."