Recently, a reporter from China Global Television Network (CGTN) interviewed Leo Yang, Executive Director and General Manager of CIMC Enric, and reported that CIMC Enric's provided high-quality and a variety of hydrogen related equipment to facilitate the Beijing Winter Olympics to achieve "Carbon Neutrality".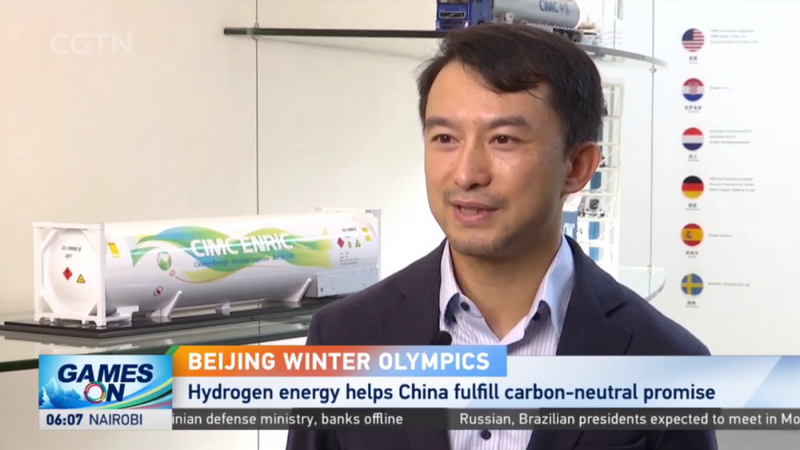 The report was broadcast globally on the CGTN channels on the morning of February 16, in which you can see CIMC Enric's advanced hydrogen equipment provided for the Beijing Winter Olympics. Below is the content summary of the report.
"The 2022 Beijing Winter Olympics aims to be the first ever carbon-neutral Olympics. Part of that is being achieved by deploying the largest number of hydrogen-powered vehicles and refueling stations." Xu Hua reports.
From the torch to vehicles and refueling stations, China is taking actions to produce a carbon-neutral Winter Olympics. The hydrogen-powered torch was lit on February 4th, and it has to keep burning throughout the Olympics. But it's not so simple to ensure that it burns reliably in all weather conditions and withstands strong winds and extreme low temperatures.
Leo YANG, Executive Director & General Manager, CIMC Enric Holdings Limited, said, "To ensure continuous and stable burning of the torch in this Winter Olympic Games Beijing, CIMC Enric has provided more than 30 hydrogen transportation tube trailers, more than 10 hydrogen storage cylinders and 1 set hydrogen cylinder dedicated for the refueling of the torch."
Another eye-catching green model is the deployment of more than 1,000 hydrogen fuel cell vehicles, which is dramatic leap from the 196 at the 2010 Shanghai World Expo and 3 at the 2008 Beijing Olympics.
The cold weather and high altitude in Zhangjiakou and Beijing create a challenge for new energy vehicles. To resolve this, China's oil producer and leading supplier of energy equipment have built hydrogen refueling stations for the venues.
Leo YANG, Executive Director & General Manager, CIMC Enric Holdings Limited, said, "The hydrogen refueling device in the mounted-skid adopted a number of national pioneering technologies developed by CIMC Enric. Parts, pipes and valves are made of stainless steel to meet the requirements for the use in extremely low temperature environments."
Hydrogen energy has been developed in China for hydrogen fuel cell electric vehicles, hydrogen buses and hydrogen heavy duty trucks. However, due to the high cost of hydrogen production and insufficient infrastructure such as hydrogen refueling stations, the hydrogen energy industry chain is still in its infancy and far from being in large-scale commercial use.
"China aims to achieve peak emissions in 2030 and carbon neutrality in 2060. The 2022 Beijing Winter Olympics could be a watershed for the accelerated implementation of hydrogen energy in China. Xu Hua, CGTN, Guangdong Province."