(22 December 2021 – Hong Kong) - CIMC Enric Holdings Limited ("CIMC Enric" or "the Company") together with its subsidiaries (the "Group") (Stock Code: 3899.HK) announced that its subsidiary, Nantong CIMC SinoPacific Offshore &. Engineering Co., Ltd. ("SOE"), has successfully delivered the world's largest 20,000m3 LNG carrier and bunkering vessel (the "Vessel") to UK-based Avenir LNG in Zhoushan, Zhejiang Province via "Cloud Delivery" method.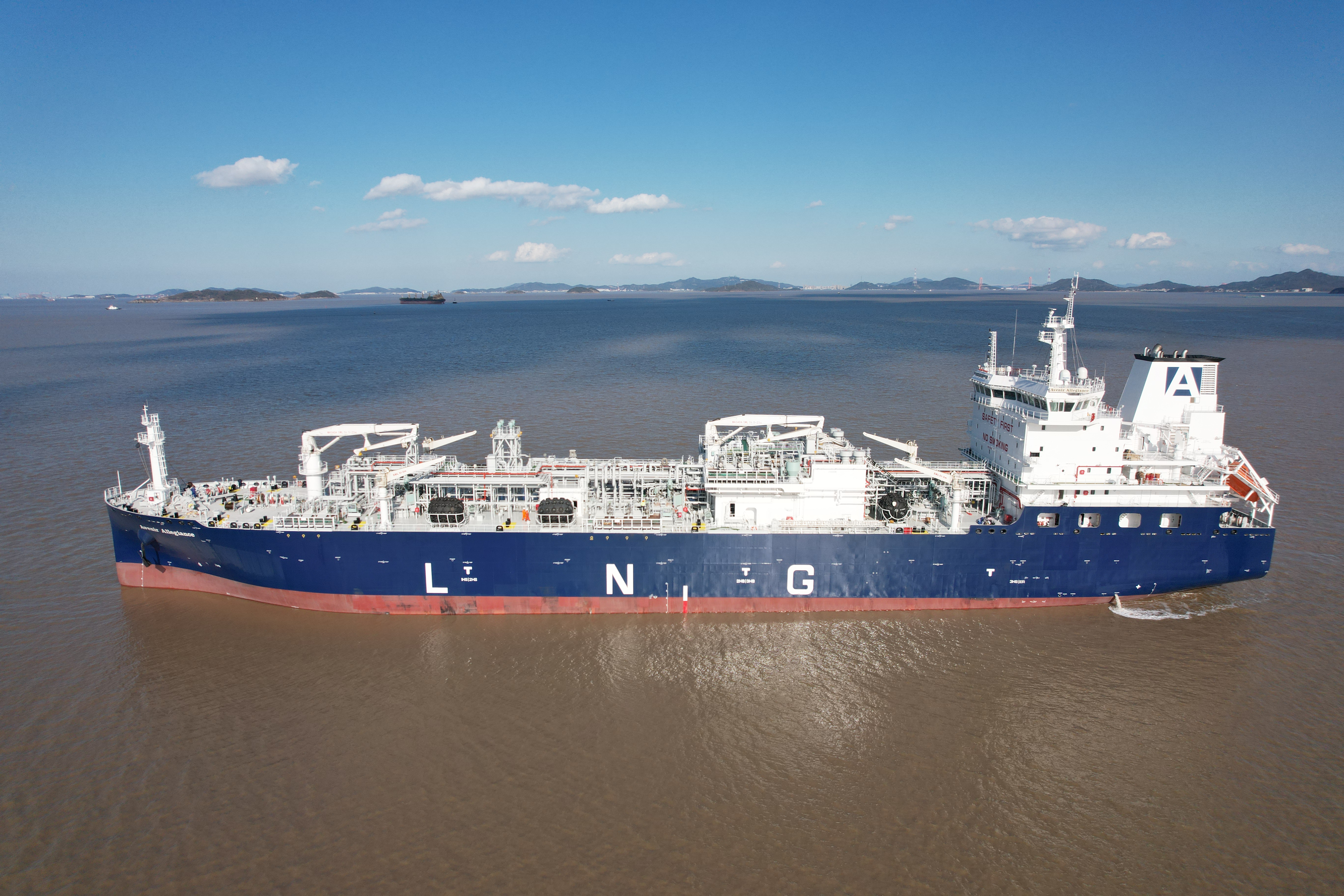 Avenir LNG is a joint venture between Stolt-Nielsen, the world's largest chemical shipping company, and two giants in the LNG sector, Hoegh LNG and Golar LNG, and focuses on small-scale LNG distribution and LNG refueling.
The 20,000 cubic meter-LNG carrier and bunkering vessel delivered is the largest LNG bunkering vessel in the world. It features a C-type bi-lobed tank as the main cargo tank at 159.9 meters in length and 24 meters in width with advantages of safety, environmental protection and low boil-off rate. It's a technical upgrade of ordinary LNG carriers with functions of distributing LNG as well as bunkering LNG for other vessels and terminals.
The Vessel is mainly fueled by boil-off gas from LNG cargo, with excellent design of all parameters and complies with the latest global emission standards. The configuration has been optimized to enhance maneuverability and improve the flexibility and safety of LNG refueling operations while meeting the requirements of class notation COMF (V-3) and obtaining class notation VR of the classification society for vapor recovery. The Vessel was a turnkey project by SOE, with the liquid tank and liquid cargo system designed and built by SOE, and the hull co-built by Zhoushan Changhong International Shipbuilding Co., Ltd.
According to data of the Technology Research and Economy Development Institute, CSSC, 143 new LNG carriers with 7.78 million DWT were contracted worldwide from January to September, an increase of 22.0% year-on-year. LNG has a promising future as a clean and efficient marine fuel with great potential, and LNG refueling vessels are key to supporting the development of LNG refueling infrastructure market.
As an important future development direction in the LNG field, LNG carrier and bunkering vessels are one of the primary products of SOE. Currently, SOE has several LNG carrier and bunkering vessels under construction, including 7,500m3, 8,200m3 and 20,000m3. The Vessel is the third complete unit delivered by SOE this year.
Mr. Gao Wenbao, Deputy General Manager of CIMC Enric and General Manager of SOE, said, "In recent years, as international organizations and governments continue to raise carbon emission and environmental standards for the shipping industry, the world's leading shipping companies have announced net-zero emission commitments, placing greater emphasis on the latest generation of energy-saving and eco-friendly vessels and the upgrading of existing fleet technologies. The pace of LNG refueling facilities in major shipping ports around the world is accelerating, and the number of orders for LNG refueling vessels is also increasing. We will seize the opportunity of the industry development and provide safe, reliable and efficient LNG carrier and bunkering vessels according to the needs of our customers to help achieve their low-carbon emission commitments."