(06 February 2023, Hong Kong) — CIMC Enric Holdings Limited ("CIMC Enric") and its subsidiaries (collectively, the "Company") (Hong Kong stock code: 3899.HK) are pleased to announce that, a subsidiary, Nantong CIMC Energy Equipment Co., Ltd ( "Nantong Energy"), took the lead in drafting the group standard of "Special Technical Requirements for Transportable Vacuum-Insulated Liquid Hydrogen Pressure Vessels" ( "the Standard"), which was officially released by the China Association for Technical Supervision and Information.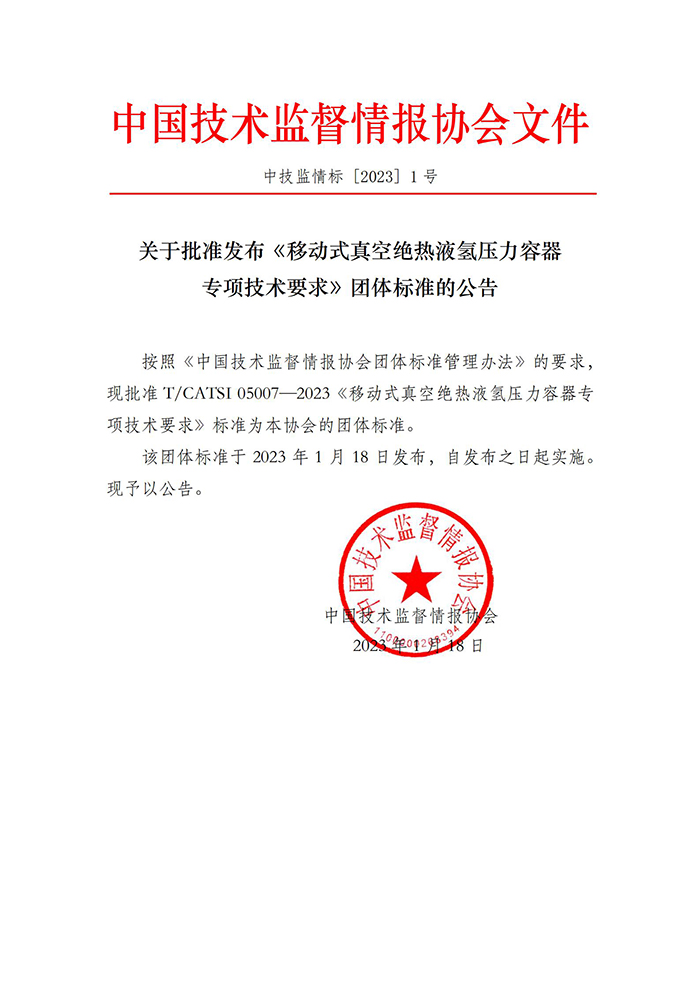 The Standard was jointly drafted by more than ten industry players including CIMC Enric's two subsidiaries, of which Nantong Energy and Zhangjiagang CIMC Sanctum Cryogenic Equipment Co., Ltd. as two of the primary drafting units.
The Standard specifies the special technical requirements for materials, design, manufacture, inspection and testing of transportable vacuum-insulated liquid hydrogen pressure vessels (liquid hydrogen tank containers and liquid hydrogen tankers), including the parameters of special steel material covering its chemical composition, mechanical performance, design and other performance ; as well as other technical parameters related to structural design, manufacture, cryogenic performance, test methods, piping design and safety protection system settings.
The Standard is China's first group standard for transportable liquid hydrogen transport vessels. It has comprehensive independent intellectual property rights and fills the gap of current industry standards related to liquid hydrogen pressure vessels. The release of the Standard provides a benchmark for the design and manufacture of transportable vacuum-insulated liquid hydrogen pressure vessels. Additionally, the Standard provides a strong support and basis to ensure the safety and reliability of liquid hydrogen storage and transportation, which will further drive the development of the liquid hydrogen industry, and significantly contribute to achieve the "Dual Carbon Goal".
Liquid hydrogen storage and transportation is a favoured solution for future large-scale hydrogen application because of its high purity, low transport costs over long distances and high refuelling efficiency. With the rapid development of liquid hydrogen technology and production scale, the commercial application for liquid hydrogen is also gradually expanding. The storage and transportation of liquid hydrogen is the basis for the safe, efficient, large-scale and low-cost application of liquid hydrogen, and is also the key to facilitate the downstream development of hydrogen roadmap. Currently, the application of hydrogen energy is in a rapid development phase. As a key part connecting upstream and downstream, the related liquid storage and transportation equipment is expected to usher in development opportunities.. In recent years, many large gas companies and equipment manufacturers have included the construction of domestic liquid hydrogen factories and liquid hydrogen refuelling stations in their development projects, boosting the market demand for liquid hydrogen vehicle tankers and liquid hydrogen tank containers continues to rise.
CIMC Enric Hydrogen Business Centre CEO Ms. Yang Baoying said, "The liquid hydrogen industry development in China has been relatively slow as the advancement of key technology and equipment has been limited. Specifically, the application of liquid hydrogen in the civilian sector is almost nonexistent, and all aspects of the liquid hydrogen industry are weak. The lack of domestic norms and standards for transportable liquid hydrogen vessels and the lack of experience in their construction and application have also been important factors limiting the development of China's transportable liquid hydrogen vessel industry. The introduction of the liquid hydrogen group standard forms the foundation of hydrogen energy infrastructure which should accelerate the expansion of hydrogen energy applications in various scenarios. The Company will continue to work together with various industry partners to promote industry and national standards."