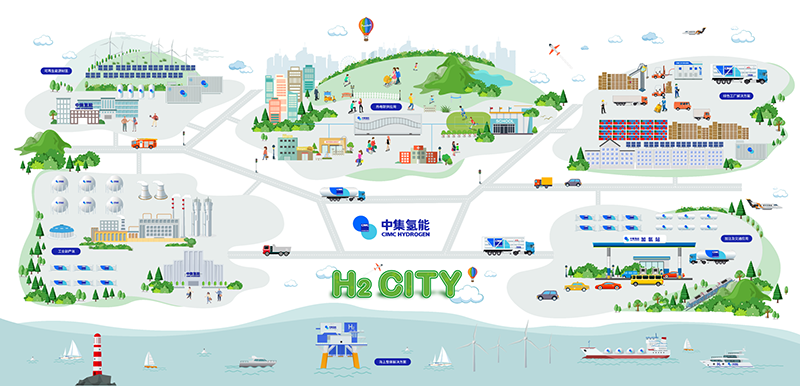 (22 February 2023, Hong Kong) — On 20 February, Hang Seng Indexes Company Limited ("HSIL") launched the Hang Seng Stock Connect Hydrogen Energy Index (HSHE.HI), a new cross-market ESG-themed index. CIMC Enric Holdings Limited ("CIMC Enric" or the "Company") (Hong Kong stock code: 3899.HK) was one of the first listed companies to be selected as a constituent of the index, gaining further recognition from capital markets for its key role in developing the hydrogen energy sector.
HSIL manages and compiles the Hang Seng Family of Indexes which cover stocks listed in Hong Kong and mainland China. These include the Hang Seng Index, the Hang Seng China Enterprises Index, the Hang Seng TECH Index, as well as Stock Connect, Greater Bay Area and Sustainability and sector-related indexes. As at the end of 2022, assets under management in products passively tracking indexes in the Hang Seng Family of Indexes totaled approximately USD57.6 billion. The Hang Seng Stock Connect Hydrogen Energy Index is designed to track the performance of listed companies involved in the production, transmission, distribution and storage of hydrogen including those in the energy, raw materials, industrial and utilities sectors. On a free-float market-capitalization-weighted basis, the top 30 companies with highest relevance score were selected as constituent companies that comprise a total of 64.67% of the A Share constituents and 35.33% of the HK Share constituents. CIMC Enric is one of the first seven HK constituent companies.
Through focusing on clean energy equipment and intelligent manufacturing technology, CIMC Enric contributes to sustainable development for both society and customers by helping them achieve low and zero-carbon goals. In the field of hydrogen energy business, the Company is steadily expanding its footprint across the entire hydrogen energy industry chain including "production, storage, transportation, refueling and applications". Together with the industry participants, CIMC Enric is promoting the development of hydrogen-energy industry standards, breakthrough technologies and the exploration and development of application scenarios. In the field of upstream hydrogen production, the Company is working with Angang Steel on a co-production of LNG and hydrogen project from coke oven gas. Earlier this year, the Company successfully launched the first 1200Nm³/h alkaline electrolyzer. In the field of storage and transportation, the Company has steadily developed high-pressure gas hydrogen and low-temperature liquid hydrogen technology and equipment, and it took the lead in drafting a group standard for mobile liquid-hydrogen transport containers. In the application field, the Company independently developed diaphragm compressor equipment for hydrogen refueling stations, becoming China's only integrated-solution provider that can independently manufacture and produce all core equipment for hydrogen-refueling stations. At the same time, CIMC Enric continues to promote demonstration and application of Type IV on-board hydrogen cylinders and supply systems, and is exploring full-scale hydrogen-energy demonstration projects in energy storage, heat supply and other fields.
Ms. Zhong Yingxin, Board Secretary of CIMC Enric, said, "The Company's inclusion in the first batch of the new Hang Seng Stock Connect Hydrogen Energy Index confirms its leading position in the hydrogen energy sector and its contribution to sustainable development. With hydrogen energy playing a pivotal role in the energy transition process, the index's launch reflects the growing interest and investment demand of capital markets in sustainable development themes,especially in hydrogen energy. We believe that the index will facilitate more investors that focus on carbon-reduction themes and low-carbon transition opportunities. The Company's mission is to "Make Cleaner Energy, More Sustainable Environment and a Better Life" and making this happen is part of our commitment to society. In the future, we will continue leading the way in hydrogen energy, accelerating R&D and industrialization of cutting-edge technologies, and advancing the industry."